Posted by Tara Burner
34 comments
I received a pair of Silver Flower Stud earrings from kt collection jewelry nyc for review (and added bonus, one lucky winner will win a pair just like these!)
Learn about the designer and her jewelry.
Katie likes to mix New York's edgy street style with timeless gold and silver designs. She hunts down rich stones and brings meaningful pieces from her travels to her line. And because Ktcollection sells in locations all over New York city, the jewelry reflects the trends of Manhattan while being amazingly easy to wear. The trends of the season may change, but ktcollection's pieces remain classics, made to last beyond just one season.
Besides, earrings, you can get necklaces, and rings along with bracelets too.
These silver flower studs are darling silver flowers accented with five rhinestones.
They make for a simple yet charming accent.
These aren't too overwhelming in size and appearance yet leave an impression with those who see them on.
And, now you can enter to win your own pair!
Win the Silver Flower Stud Earrings
$18.00 Retail value
Contest open until Nov 12, 2011 11:59 p.m.
Winner will be announced on Nov 13, 2011 via email.
Mandatory Entry
Visit ktcollection.com, look around and then come back here and comment on which jewelry piece you'd like the best.
Additional Entries:
For each thing you do here, you must put it in a new comment for it to count as an entry.
Please do not combine things you do or it'll only count as one entry in the contest.
Follow follow @ktcollection on Twitter
Like KT-Collection on Facebook
Give +K via Klout to ktcollection
Copy & paste this tweet, then when you're done come back and comment with the link of your tweet
Win silver flower earrings from @ktcollection http://tinyurl.com/3ws5qmb @taraburner #giveaways #earrings
Follow this blog via Google Friend Connect (right menu midway down)
Follow me on Twitter
Friend me on Facebook
Give @taraburner Klout
Sub to this blog via RSS Feed
Comment on any other post on this blog
Add www.TaraBurner.com blog to your blog roll
Add the Tara Burner button and link to www.taraburner.com to your site
(right click to save or use image link of http://i263.photobucket.com/albums/ii127/taraburner/taraburnerbutton.jpg)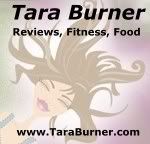 Or if you prefer this button, add it and link to www.taraburner.com on your site
(right click to save or use image link of http://i263.photobucket.com/albums/ii127/taraburner/taraburnerblogbutton.jpg)


Like Tara's fitness page on Facebook
– Disclaimer: Tara Burner has personally reviewed the product(s) listed above. Tara has not received any monetary compensation for her review on this blog. Free product was received by Tara so she could experience it for the review. Tara's opinions are honest and unbiased. Tara Burner is not responsible for delivery of any giveaway items won from companies and people on this blog.