Posted by Tara Burner
49 comments
A thank you to Laura of Looloo's Organics who enabled me to try the Island Escape Sugar Scrub Sampler.
It was divine and I truly felt like I did escape when I used these organic vegan sugar scrubs.
Product Highlights
USDA Certified Organic
Vegan
not to mention Eco Chic! (yes I used that term!)
My skin feels mega soft after using this sugar scrub!
I love the Caribbean Lime the best!
Vibrant lime aroma and sugary softness.
Check out the ingredients!
Looloo's Escape Sugar Scrubs are the perfect blend of Organic fine grain Sugar, Organic Palm Oil, and our amazing Organic Essential Oils that will leave your skin polished to perfection!
Ingredients:
Organic Cane Sugar
Organic Palm Fruit Oil
Organic Aloe Vera
Organic Soy Oil
Organic Essential Oil
Vitamin E
No wonder my entire body feels soft and rehydrated!
Our Organic fine grain Sugar will gently exfoliate away rough, dull skin. While our masterful blend of organic Palm oil and organic essential oils will rehydrate and nourish you skin.
Exfoliating helps your skin shed its dead cells allowing the new healthy cells to breathe and function properly.
Sugar is a much better alternative to Salt, as salt can be over drying and too rough on your skin!
Palm oil is a highly effective antioxidant for your skin; it is renowned for its healing properties, and incredibly long lasting hydrator that is easily absorbed by your skin!
*Our Sugar Scrub is certified organic by the USDA, and like all of our products is 100% vegan and cruelty free!*
In addition to the organic sugar scrubs (which I love) , they have organic body butters (I'm going to have to try these as well!) and bath bombs for those who want to relax in the tub and other products that are organic, natural, vegan, cruelty free, and free of SLS and parabens.
You know I have to mention the green factor here!
When you receive Looloo's Escape products not only the shipping box is made out of 100% recycled PCW cardboard, the packing peanuts are biodegradable, the literature is on 100% recycled paper or placed on the box itself…

They also support countless charities which is always a plus to me.
Overall I'm loving everything about Looloo's Escape…
the awesome organic products
the green initiatives
the charities

Now you can enter to win your own Island Escape Sugar Scrub Sampler
Retail Value: $34

Contest open until Dec 4, 2011 11:59 p.m.
Winner will be announced on Dec 5, 2011 via email.
Contest only open to the US & Canada only
No PO Boxes
Mandatory Entry
Visit www.looloos-organics.com and come back and comment with the name of a product you'd like or something you learned.
Additional Entries:
For each thing you do here, you must put it in a new comment for it to count as an entry.
Please do not combine things you do or it'll only count as one entry in the contest.
Follow follow @looloosorganics on Twitter
Like Looloo's on Facebook
Copy & paste this tweet, then when you're done come back and comment with the link of your tweet
Win an #organic Island Escape Sugar Scrub Sampler @looloosorganics http://wp.me/p1XoKe-2mN @taraburner #giveaways #vegan
Follow this blog via Google Friend Connect (right menu midway down)
Follow me on Twitter
Friend me on Facebook
Give @taraburner Klout
Sub to this blog via RSS Feed
Follow me on Tumblr
Follow me on Pinterest
Connect with me on Posterous
Add me to your circles on Google+
Comment on any other post on this blog
Add www.TaraBurner.com blog to your blog roll
Add the Tara Burner button and link to www.taraburner.com to your site
(right click to save or use image link of http://i263.photobucket.com/albums/ii127/taraburner/taraburnerbutton.jpg)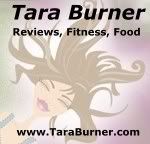 Or if you prefer this button, add it and link to www.taraburner.com on your site
(right click to save or use image link of http://i263.photobucket.com/albums/ii127/taraburner/taraburnerblogbutton.jpg)


Sign up for the free Balancing Healthy Body, Mind, Soul online paper
Like Tara's fitness page on Facebook
Subscribe to my YouTube channel
– Disclaimer: Tara Burner has personally reviewed the product(s) listed
above. Tara has not received any monetary compensation for her review on
this blog. Free product was received by Tara so she could experience it
for the review. Tara's opinions are honest and unbiased. Tara is not responsible for shipping winning products.