Posted by Tara Burner
38 comments
Thank you to Patty of Happy Goats Soap for the opportunity to try this wonderful Tangerine Dream Goat's Milk Soap.
The soaps at Happy Goats Soap are made with goat's milk, essential oils in small batches using cold process method.
They have great natural fragrance and are mega moisturizing and lathery.
Those who suffer from skin allergies & sensitivities, dry skin, psoriasis, acne, eczema usually like goat's milk soaps since it's so moisturizing and while the wonderful federal government doesn't allow people to make health claims, etc…goat's milk soaps have a history of having legendary skin healing properties.

Other interesting facts about goat's milk soaps:
Goat's milk is also full of proteins, vitamins & minerals which are good for our skin.
If you have acne-prone skin, the proteins in the goat's milk kill the bacteria that causes acne.
Goat milk soap has a pH level similar to human skin so it helps protect our skin from bacteria and other funk that we come in contact with throughout our day, and leaves our skin soft.
Natural homemade batches of goat's milk soap are better than mainstream commercially processed soap due to the natural creams in goat's milk that are retained by using cold process soap making method and not processing commercially and extracting all the benefits of what the milk contains.
I know I love my new goat's milk soap…
and of course the cow shape is too cute!
Happy Goats Soap offers other scents and shapes as well…
and one lucky winner is going to get 3 of those soaps!
Contest open until Nov 21, 2011 11:59 p.m.
Winner will be announced on Nov 22, 2011 via email.
Contest only open to the US & Canada only
Mandatory Entry
Visit www.gethappygoatsoap.com and come back and comment with what soap you'd like to try besides the one I reviewed.
Additional Entries:
For each thing you do here, you must put it in a new comment for it to count as an entry.
Please do not combine things you do or it'll only count as one entry in the contest.
Follow follow @BrokenTeepee on Twitter
Heart Get Happy Goat Soap on Etsy
Friend Broken Teepee on Facebook
Subscribe to their blog
Copy & paste this tweet, then when you're done come back and comment with the link of your tweet
#win 3 natural goats milk soaps from http://wp.me/p1XoKe-2hQ @brokenteepee @taraburner #giveaways #natural #goatsmilk
Follow this blog via Google Friend Connect (right menu midway down)
Follow me on Twitter
Friend me on Facebook
Give @taraburner Klout
Sub to this blog via RSS Feed
Follow me on Tumblr
Follow me on Pinterest
Connect with me on Posterous
Add me to your circles on Google+
Comment on any other post on this blog
Add www.TaraBurner.com blog to your blog roll
Add the Tara Burner button and link to www.taraburner.com to your site
(right click to save or use image link of http://i263.photobucket.com/albums/ii127/taraburner/taraburnerbutton.jpg)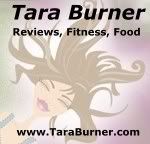 Or if you prefer this button, add it and link to www.taraburner.com on your site
(right click to save or use image link of http://i263.photobucket.com/albums/ii127/taraburner/taraburnerblogbutton.jpg)


Sign up for the free Balancing Healthy Body, Mind, Soul online paper
Like Tara's fitness page on Facebook
Subscribe to my YouTube channel
Like the Recipes For Eating Well Page on Facebook
Follow @ForEatingWell on Twitter
Give @foreatingwell Klout
Add RecipesForEatingWell.com to your blog roll
Add the Recipes For Eating Well button and link to www.recipesforeatingwell.com to your site
(right click to save or use image link of http://i263.photobucket.com/albums/ii127/taraburner/recipesforeatingwellbutton.jpg)


– Disclaimer: Tara Burner has personally reviewed the product(s) listed
above. Tara has not received any monetary compensation for her review on
this blog. Free product was received by Tara so she could experience it
for the review. Tara's opinions are honest and unbiased. Tara Burner is
not responsible for delivery of any giveaway items won from companies and
people on this blog