Posted by Tara Burner
50 comments
I received one of each of Funky Monkey Snacks flavors to try for this review.
Funky Monkey Snacks are a line of freeze-dried fruit that are 100% natural, 100% real fruit, and 100% delicious.
They were created to bring delicious healthy snacks to everyone.
Each one ounce bag equals 3 servings of fruit!
Their unique freeze drying process maintains nearly all of the flavor and nutrients in the fruit.
Check out the step by step fun interactive way they show you how Funky Monkey Snacks are made and compared to other fruit snacks.
Plus the cool fun packaging will also help entice kids to eat these good for them snacks.
They're healthy snacks that are easy to take on the go.

My favorite was the Jivealime–organic pineapple and lime juice!
It was tangy and delicious.
Funky Monkey Snacks are actually full pieces of fruit and come in 7 great combinations of flavors.
JiveALime (Pineapple & Lime Juice)
MangOJ (Mango & Orange Juice)
Pink Pineapple (Pineapple & Guava)
Applemon (Apple & Cinnamon)
Bananamon (Banana & Cinnamon)
Carnaval Mix (Banana, Pineapple, Apple, & Papaya)
Purple Funk (Banana & Acai)
Kids (and adults) are sure to love these crunchy fruit snacks.
Funky Monkey highlights:

• Funky Monkey Snacks are all-natural with no added colors, flavors, sugars, or preservatives
• Our special, proprietary manufacturing process provides for a crunchier texture vs. conventional freeze-drying techniques
• We use full slices and pieces (not dices) of delicious, fresh fruit
• Funky Monkey is made at the source in Brazil, using fresh, tropical fruits at the peak of freshness
• Our products are gluten-free, certified Kosher, and certified non-GMO
• One of our 7 flavors, Purple Funk, also includes açai, a berry from the Amazon that is viewed as the newest superfood

You can use their where to find link to find a location near you to purchase your Funky Monkey Snacks, or you can click on the order online button FunkyMonkeySnacks.com

Enter to win!
One winner will receive 1 bag of each of the 7 flavors
Contest open until Nov. 4, 2011 11:59 p.m.
Winner will be announced on Nov 5, 2011 via email.
Open to US Residents Only
Mandatory Entry
Visit FunkyMonkeySnacks.com, look around and then come back here and comment on something you learned or which flavor you think would be your favorite.
Additional Entries:
For each thing you do here, you must put it in a new comment for it to count as an entry.
Please do not combine things you do or it'll only count as one entry in the contest.
Follow follow @FunkyMonkeySnck on Twitter
Like Funky Monkey Snacks on Facebook
Give +K via Klout to FunkyMonkeySnck
Go to FunkyMonkeySnacks.com and sign up for their newsletter
Copy & paste this tweet, then when you're done come back and comment with the link of your tweet
Win 100% natural fruit snacks from @FunkyMonkeySnck http://tinyurl.com/3jbjzsd @taraburner #giveaways #natural
Follow this blog via Google Friend Connect (right menu midway down)
Follow me on Twitter
Friend me on Facebook
Give @taraburner Klout
Sub to this blog via RSS Feed
Sign up for the Balancing Healthy Body, Mind & Soul free online newspaper
Comment on any other post on this blog
Add www.TaraBurner.com blog to your blog roll
Add the Tara Burner button and link to www.taraburner.com to your site
(right click to save or use image link of http://i263.photobucket.com/albums/ii127/taraburner/taraburnerbutton.jpg)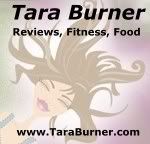 Like Tara's fitness page on Facebook
Like the Recipes For Eating Well Page on Facebook
Follow @ForEatingWell on Twitter
Give @foreatingwell Klout
Add RecipesForEatingWell.com to your blog roll
Add the Recipes For Eating Well button and link to www.recipesforeatingwell.com to your site
(right click to save or use image link of http://i263.photobucket.com/albums/ii127/taraburner/recipesforeatingwellbutton.jpg)


– Disclaimer: Tara Burner has personally reviewed the product(s) listed above. Tara has not received any monetary compensation for her review on this blog. Free product was received by Tara so she could experience it for the review. Tara's opinions are honest and unbiased. Tara Burner is not responsible for delivery of any giveaway items won from companies and people on this blog.