Posted by Tara Burner
48 comments
I'm glad to introduce you to ExclusiveGoddess.com, where you can get eco-friendly jewelry and accessories.
Not only are the jewelry sets environmentally friendly but the company itself takes steps to be green…
They print on recycled paper and ship in USPS eco-friendly packaging.
Products have minimal or no artificial materials.
They are energy efficient in the office and in production.
They use recycled content and manufacture with minimal environmental impact and reusability.
Additionally, every time an accessory is sold a tree is planted by Mokugift to help the UNEP (United Nation Environment Programme).
You can read more about Exclusive Goddess and what they stand for.
The accessories and necklace sets that are available from ExclusiveGoddess.com are unique and will please anyone who is into green jewelry and different pieces. These are definitely eye catching pieces and a great display of how jewelry can be made from grains, beans, shells, seeds, nuts and other natural materials and be fashionable and environmentally friendly.
And, now for the actual eco-friendly necklace and earring sets.
My daughter reviewed these (she makes a better model than I do with jewelry! but sorry I did blur out her face, after all she is my teen and I don't post her face, info online randomly).
But you're here to see the jewelry anyhow!
This first set is Coffee Beans and Tagua


This set has an adjustable necklace so you can make it as long or as short as you want.
The necklace is tie style and made out of coffee beans and a dream catcher centerpiece made from a Tagua nut.
The necklace and earrings are crocheted by hand.
If you like the smell of coffee, then this set is especially for you since these are all natural, non toxic materials the coffee beans still have their aroma!
This set (and all the other items available by Exclusive Goddess) are great for girls & women of all ages…
evident by my teen loving the Coffee bean necklace & earrings as well as myself totally into these two sets and others on the website.
Acai and Camajuru necklace and earring set is next.
This set is the one that one lucky winner will get (see giveaway information below)
The necklace is also adjustable by sliding knot and made of macrame, and acai seeds and camajuro alternating.

Win the Acai and Camajuru set
$24.99 Retail value
Contest open until Nov 9, 2011 11:59 p.m.
Winner will be announced on Nov 10, 2011 via email.
Mandatory Entry
Visit ExclusiveGoddess.com, look around and then come back here and comment on something you learned or which item you'd like the best.
Additional Entries:
For each thing you do here, you must put it in a new comment for it to count as an entry.
Please do not combine things you do or it'll only count as one entry in the contest.
Follow follow @XclusiveGoddess on Twitter
Like Exclusive Goddess on Facebook
Give +K via Klout to XclusiveGoddess
Copy & paste this tweet, then when you're done come back and comment with the link of your tweet
Win #ecofriendly necklace & earrings from @XclusiveGoddess http://tinyurl.com/44tlbqw @taraburner #giveaways #green #acai
Follow this blog via Google Friend Connect (right menu midway down)
Follow me on Twitter
Friend me on Facebook
Give @taraburner Klout
Sub to this blog via RSS Feed
Comment on any other post on this blog
Add www.TaraBurner.com blog to your blog roll
Add the Tara Burner button and link to www.taraburner.com to your site
(right click to save or use image link of http://i263.photobucket.com/albums/ii127/taraburner/taraburnerbutton.jpg)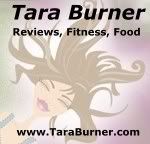 Or if you prefer this button, add it and link to www.taraburner.com on your site
(right click to save or use image link of http://i263.photobucket.com/albums/ii127/taraburner/taraburnerblogbutton.jpg)


Like Tara's fitness page on Facebook
Like the Recipes For Eating Well Page on Facebook
Follow @ForEatingWell on Twitter
Give @foreatingwell Klout
Add RecipesForEatingWell.com to your blog roll
Add the Recipes For Eating Well button and link to www.recipesforeatingwell.com to your site
(right click to save or use image link of http://i263.photobucket.com/albums/ii127/taraburner/recipesforeatingwellbutton.jpg)


– Disclaimer: Tara Burner has personally reviewed the product(s) listed above. Tara has not received any monetary compensation for her review on this blog. Free product was received by Tara so she could experience it for the review. Tara's opinions are honest and unbiased. Tara Burner is not responsible for delivery of any giveaway items won from companies and people on this blog.