Posted by Tara Burner
3 comments
I'm proud to be part of FitFluential and am kickin' off with this post to remind everyone why they should exercise and the benefits of doing it in a quick quirky kinda way. You'll find I'm more a visual person, but I've found that most people don't read lengthy blogs (or books or anything for that matter) so quick info is the best.
Ironically, just a few days ago I had posted How To Survive The Holidays Without Gaining Weight but didn't want to recycle that post (though it's got good info in it).
This past Monday, I had posted a quickie short version of why you should workout…
Here's new info just because I'm good like that 😉
These may not be the reasons that normally come to mind but they're the ones I'm going with in this post!
Makes you smarter (ok so it helps with memory and all kinds of brainiac stuff)


Gives you a feeling of accomplishment

Makes you happy.
Endorphins make you happy!

To make lifelong habits and improvements in your body & health

The dedication you give to exercising carries over into other aspects of your life

Exercise reduces the risk of heart disease

Prove others wrong…
you know, the naysayers, the ones who tell you that you can't do something…

~*~*~*~*~*~*~*~*~*~*~*~*~*~*~
7 Exercises Anyone Can Do
*no equipment required so there's no excuse*
1) Walk, Jog or Run (depending on your fitness/health level)
2) Yoga
3) Plank (benefits core)
4) Push ups
5) Crunches
6) Burpees
7) Zumba (or any type of dance)
You can always find more Fitness posts here
Make sure to Sub to my blog so you can keep up with everything!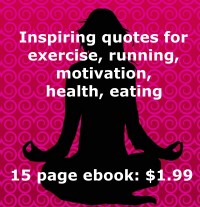 Question of the day
Why do you work out?
If you don't, why not?