Posted by Tara Burner
5 comments
I luv their slogan
Designerliners is here to help you "Dress the Mess"
Designerliners are a biodegradable waste basket liner that will help you clean up the world one trash can at a time.
Designerliners are recyclable, decorative and can beautify your trash.
Product Info
Designerliners:
– are fully biodegradable in 9 months to 5 years
– are fully biodegradable wherever they are disposed of
(where other things are biodegrading- anaerobically and aerobically).
– are recyclable
– can be made with recycled resins
– do not use heat, light or mechanical stress to break them down
– do not require special handling
– do not contain heavy metals
designerliners are a positive step to a cleaner planet.
Sometimes it's the little things that add up to a huge benefit.
Usually one wouldn't think about what trash looks like, we all have it, we toss it in a bag, wrap it up and take out to the curb (or in my case dumpster) and that's it.
But, why shouldn't it be dressed up a bit, especially if you have to see it day in, day out!
I have to sit next to this trash can for hours on end every day, (it's next to my desk) so now it's a lot brighter looking and not so trashy.

The bags come in ten different color/pattern combinations:
Pink Polka Dot, Orange Polka Dot, Navy Blue Polka Dot, Red Gingham, Gold Gingham, Black Leopard, Blue Leopard, Red Toile, Blue Toile, and Black Tattersol.
Enter to win one package of 12 Designerliners!
Contest open until Sept 16, 2011 11:59 p.m.
Winner will be announced on Sept 17, 2011 via email.
Open to U.S. residents only
Mandatory Entry:
Visit DesignerLiners.com and then come back here and comment on one thing you learned.
Additional Entries:
For each thing you do here, you must put it in a new comment for it to count as an entry.
Please do not combine things you do or it'll only count as one entry in the contest.
Follow @designerliners on Twitter
Like DesignerLiners on Facebook
Sign up for their newsletter on their site
RT this blog post using the tweet buttons at top right of post
————————
Follow this blog via Google Friend Connect (right menu midway down)
Follow me on Twitter
Friend me on Facebook
Give @taraburner Klout
Sub to this blog via RSS Feed
Comment on any other post on this blog
Add www.TaraBurner.com blog to your blog roll
Add the Tara Burner button and link to www.taraburner.com to your site
(right click to save or use image link of http://i263.photobucket.com/albums/ii127/taraburner/taraburnerbutton.jpg)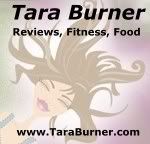 Like Tara's fitness page on Facebook
Like the Recipes For Eating Well Page on Facebook
Follow @ForEatingWell on Twitter
Give @foreatingwell Klout
Add RecipesForEatingWell.com to your blog roll
Add the Recipes For Eating Well button and link to www.recipesforeatingwell.com to your site
(right click to save or use image link of http://i263.photobucket.com/albums/ii127/taraburner/recipesforeatingwellbutton.jpg)


I received one or more of the products mentioned above for free using Tomoson.com. Regardless, I only recommend products or services I use personally and believe will be good for my readers.
— Disclaimer: Tara Burner has personally reviewed the product(s) listed above. Tara has not received any monetary compensation for her review on this blog. Free product was received by Tara so she could experience it for the review. Tara's opinions are honest and unbiased. Tara Burner is not responsible for delivery of any giveaway items won from companies and people on this blog.